Don't be left out in the cold this winter! With parts of the United States already reporting record snowfall and below freezing temperatures, now is a great opportunity to contact the ice melt experts at Central for advice on how to upgrade your ice melt supply.
You or your current distributor may run out of ice melt soon, if it hasn't already happened. With all the weather and trucking issues, don't panic! Central has 42 warehouses full of ice melt products with a fleet of trucks ready to ship. Call or email your local Central sales representative or branch to reload your facility with quality ice melt products and accessories.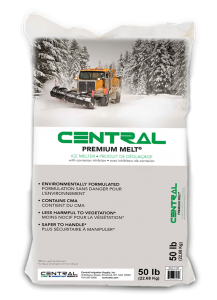 Central has vast offerings of ice melters including Central Premium Melt, widely respected by ice control experts for its exceptional characteristics including:
Outstanding ice melt, capable of working to -25° Fahrenheit.
Safer than many competing products for many surfaces including brick, concrete and wood decks.
More environmentally friendly and pet friendly than many competing products.
Advanced safety color coating enables extra visibility when applying and ensuring consistent coverage. Precision formulated for commercial applications.
Advanced CMA (Calcium Magnesium Acetate) & CI-56 Blend.
Central also carries one of the most extensive ranges of snow management accessories of any distributor. Our range of outstanding quality snow management products includes:
Salt Spreaders
Snow Blowers
Shovels
Snow Brushes
Bagged Salt
Magnesium Chloride
Calcium Chloride
Blended Products
Ride On Spreaders
Ride On Plows
Tailgate and Dump Body Spreaders
Brine Makers
Liquid Sprayers
Bulk and Treated Bulk