As we head into the summer months, people in most areas of the country are already battling the return of mosquitoes and ticks in their outdoor spaces.  With over 200 different types of mosquitos in the continental U.S. it can be very hard to know which ones are just a nuisance, and which ones could cause you or your pets' severe illness.
In 2022, Almanac's long-range weather forecast predicts warmer-than-usual weather for many parts of the country from February all the way to August, which leads to a higher occurrence of mosquito and tick activity this year. Cities across the Northeast, Southeast, and Midwest seem to be the most impacted by insects like mosquitos and ticks, with customers in these areas searching for pest control to help them tackle these problems!  Learn more below about these pests, and some solutions on what to do to help your customers solve these problems.
Mosquitos
Mosquito season can start as early as February or March in some parts of the country. When temperatures reach a consistent 50 degrees, mosquito eggs begin to hatch and the mosquito season begins. Mosquito season is also extending, since many areas of the country are staying warm late into the fall and early winter.
In addition, with the increase of larger storms and flooding in areas of the country that haven't previously experienced this level of water, many people are seeing an increase in pests as well. Increased flooding results in increased hatching of eggs.  It takes less than a week for mosquitos to go from egg to adulthood and each female mosquito can lay up to 3,000 eggs in her lifetime. It's no wonder that an infestation can happen so quickly.
More and more, homeowners are calling in professionals to make sure that their families are protected. They want regular and ongoing control so that they can enjoy their outdoor spaces without the worry. When offering services to your customers, it's important to have the right solution to meet their needs. Some customers may request an all-organic kid and pet safe option, some may want the strongest formula available, and another customer may want something in between.
Ticks
Ticks become prevalent when the temperature is consistently about 45 degrees. Much like mosquito season, tick season is lasting longer each year with many of the areas of the country getting warmer early in the year and staying warm late into fall and early winter. Tick populations can be found throughout the country but the Northeast, MidAtlantic, and upper Midwest see the largest impact. Over the last five to ten years, there has been an explosion of tick-borne illnesses such as Lyme disease.
Unlike mosquito season, tick season can be further split up into three parts based on their 2-year life cycle. In the early spring, from March to late April, adult ticks are the most prevalent and active. These adult ticks lay their eggs around the end of spring before dying.
The summer, especially around June and July, is primarily the active season for nymphs (immature ticks that have not yet developed into adults). These nymphs develop from larvae hatched from eggs in the previous year (not the newly-laid eggs). This is when you should be on the highest alert, since most humans infected by Lyme disease got it after being bitten by nymphal ticks according to the CDC.
Tick activity is also directly correlated with the population trends of their vectors, especially rats and field mice. Because rodent sightings have significantly during the COVID-19 pandemic, we're expecting to see more activity than usual during tick season in 2022. Ticks are most likely to live in tall grass, wooded areas, landscape plantings, and other shady areas. They tend to be most abundant in very small patches of wooded areas (less than an acre). This is because these small patches have higher concentration of disease carrying rodents that ticks attach to such as mice. These areas lack natural predators such as foxes or owls because of the small space. This allows the rodents, and ultimately ticks to multiply easily. These ticks then look to attach themselves to larger hosts such as deer, dogs, and humans—spreading disease and illness.
With this influx of ticks, we again see consumers looking to professionals to treat their properties to control ticks. They are looking to keep their families and pets safe and stave off Lyme disease and other illnesses, so they can enjoy their outdoor spaces without worry.
Effective Solutions for Ticks & Mosquitoes
Insect control offers a great opportunity to expand and diversify your business services. The number of contractors offering outdoor insect control applications has accelerated rapidly in the last couple of years because of the increase in demand from customers and the relatively low-cost to enter.
Tick and Mosquito season has already started. Start applying control products now, before ticks and mosquitoes start to multiply. When offering repellent services, make sure to offer a multi-visit package to keep your customer's property insect free all season long.
We've compiled a list of three effective control products for tick and mosquito including traditional, lower impact, and 100% organic.
Traditional
ProFlex
Fast-acting and long-lasting solution for several hard to control pests including mosquitoes, cockroaches, fleas and ticks. Three active ingredients provide three modes of action control insects. This product offers a 90-day guarantee and is as low as $2.59 per 1,000 sqft of coverage.
Combination Chemistry® contains adulticide and two insect growth regulators (IGRs)
Breaks the life cycle of insect reproduction to control fleas, stored product pests, cockroaches, mosquitoes, Lone Star ticks, and other listed insect pests
Quick- acting & long lasting
Low-odor, for indoor/outdoor use
Low-Impact
Bifen I/T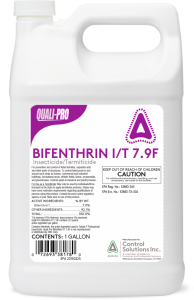 A professional strength insecticide/termiticide. Can be used indoors/outdoors on residential, institutional, public, commercial, and industrial buildings. Effective against ticks, mosquitoes, termites carpenter ants and other pests of structures.
Can be used on lawns, ornamentals, parks, recreational areas and athletic fields to control chinch bugs, crickets, fire ants, scorpions, aphids and other listed insects
Long-lasting residual for up to 5 years
Low-odor, for indoor/outdoor use
Bifenthrin is not likely to reach groundwater because it binds tightly to soil and it is not absorbed by foliage or translocated throughout plants. Bifenthrin is low in toxicity to birds.

100% Organic
Central Organic Insect Control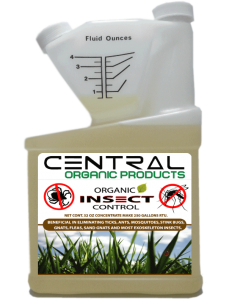 Central Organic offers 100% organic control for a wide spectrum of insects, including ticks and mosquitoes.  It has an all-organic formula which will not harm beneficial insects like bees, butterflies, and earthworms, but will eliminate ticks, mosquitoes and other insects, and is EPA-exempt.
As low as $.50 per 1,000 sqft (tank/truck sprayer)
Central Organic Total Insect Control can be applied with a traditional sprayer or can be used with a fogger device
The product has residual effect for 4-6 weeks, so plan to apply monthly
Central is here to help. If you have questions or need other recommendations, contact your local Central rep. We're always adding new and innovate products to our warehouses to make sure we're meeting [and exceeding] your needs. If you are interested in how you can add mosquito and tick control to your service offerings, let us know. We stay at the leading edge of the industry and we're ready to help you grow!