Landscape, Irrigation, Lawn Care, Hardscape, whatever type of contractor you may be, you are probably overlooking a service that every client has a need for…drainage!  Providing drainage solutions can easily be added to your services list to enhance your job proposals and set you apart from the competition.  From basic drainage issues to more involved issues, simple solutions are available to address drainage problems.
Below we look at 3 common drainage issues and some simple fixes that you can apply to the properties you work on:
1: Downspouts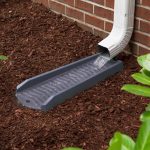 One of the most common but simple to fix drainage issues is downspouts. Poorly placed, old and damaged, or misdirected downspouts can end up dumping water into a landscape bed causing erosion and loss of plants by flooding the bed, destroying plants from the excess water, and even flooding crawlspaces & basements. Using the solution pictured below may seem like a quick and easy fix, but will just continue to create problems in the long run.
Always start your analysis of downspout issues by looking up, observing all the guttering, downspouts, and the amount of roof line draining into the system.  Once you have determined that water is draining properly from higher up locations to the ground level, you can now create solutions to remove this water away from the home. Solution: Easy to install drainage products (like the one below) can efficiently solve these issues by attaching to the downspouts; thus, running the water away from the home and beds.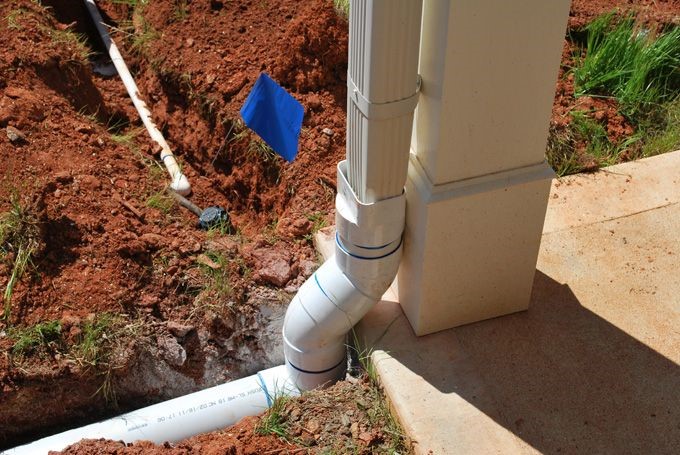 In addition to gutters and rooflines, there are two more areas to look for that can be adding to downspout drainage system concerns. The next item to investigate is sump pump discharge lines.  Typically, the line exits the home and simply dumps water just outside the foundation. Solution: Install a proper sump pump connection and tap it into the downspout piping system. 
Thirdly, look at the home's HVAC condensate discharge lines.  These lines can dump a tremendous amount of water that can be mistaken for standing water issues or blamed on irrigation.  Generally, we see this more in the summer months.  Solution: These lines can also be introduced to the downspout piping system using small basin drains.
2. Standing Water
Standing water, easily the second most common drainage issue, can cause a lot of problems and frustration for home owners. These areas can lead to an influx of mosquitoes, slip-and-falls, damage to the lawn, and loss of plants. If you do not see standing water when walking a property with a customer, but you see residual signs of a concern make sure to ask if this is a problem they notice. Perhaps it is just after a heavy rainfall, or when they run their HVAC system (as mentioned above.) If a customer has concerns about standing water but you do not see any signs of this during your visit, offer to return to the property right after a large storm or have them call you to come out and look when the standing water returns.  Solution: Common drainage products such as pre-made French drain systems, catch basins and underground dry-wells can easily address these issues.  More involved issues can be solved by incorporating a combination of the items mentioned along with a sump pump.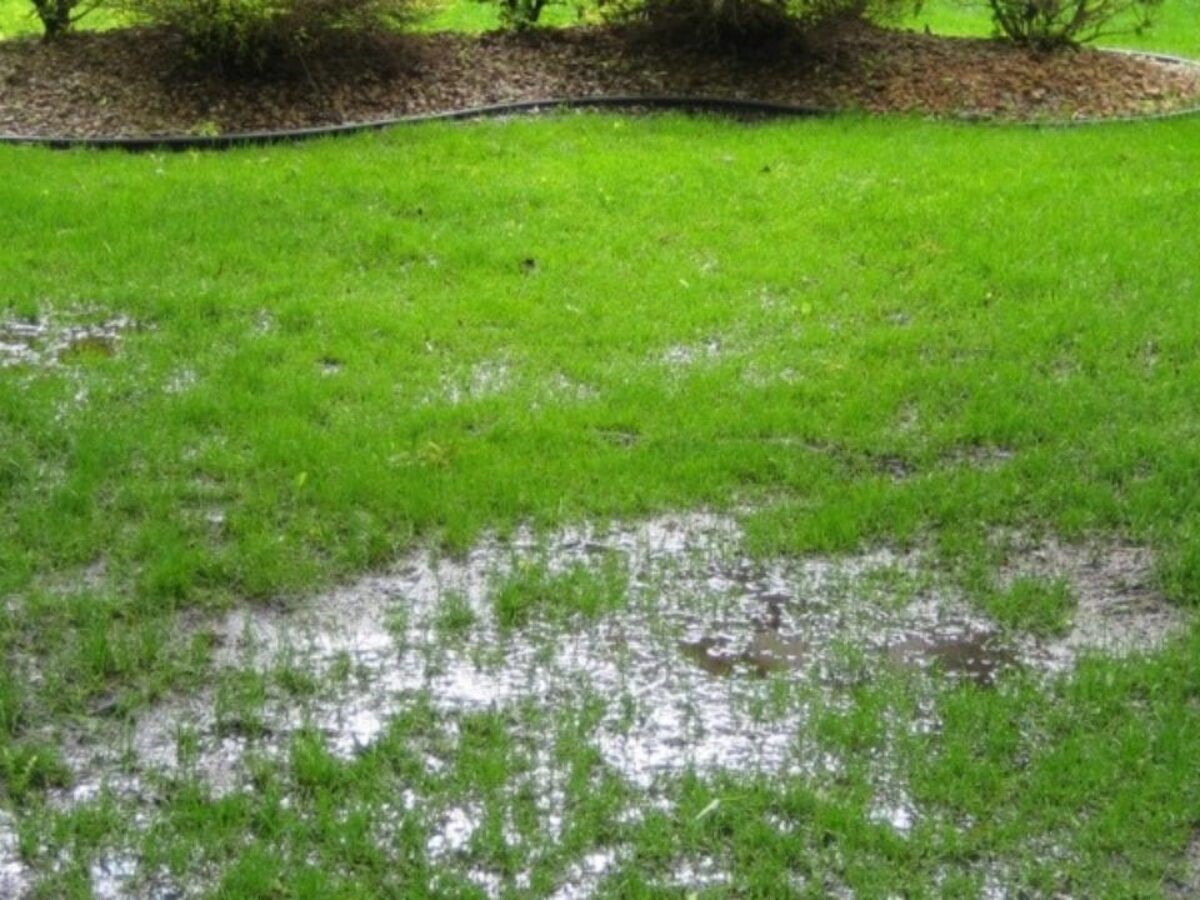 3. Hardscape Surfaces
Many homeowners may not realize the damage that water is doing to their hardscapes. Excessive water can cause major issues to solid surfaces in a short amount of time. These issues can manifest as paver discoloration, mildew, and even shifting of pavers and stones. Solution: An excellent fix to draining water coming off solid surfaces such as driveways & patios is installing channel drains. Available in several sizes & types, some even providing self-slope and many come as standard grates or also with decorative grate options in both plastic and metal.

Providing Drainage Solutions to Customers
These 3 pain points we have discussed are the most common drainage issues that we see found on residential sites.  While you are on-site is the perfect opportunity to consider providing your customer a quote on a drainage system; whether you are installing new greenery, a hardscape pathway, or an irrigation system. When you walk the property with a current or potential customer keep an eye out for some of these signs of drainage concerns and point them out. Make sure your customers know that addressing these issues now instead of waiting until things get worse will save them time, money, and big headaches down the line.
So, on your next irrigation system consultation do you feel confident you can offer your customer a drainage solution?  Your crew and equipment will already be on the site, so why not?! Now that you have learned some of the basics, you are ready to get your feet wet with drainage issues and systems!  Remember a few key points:
Adding drainage services can increase your profits and diversify your offerings
Offering drainage creates a niche market for you to pitch something to clients that other landscapers in your area may not be offering
A great idea is to also package the drainage option along with your job quotes. Explain to homeowners that including drainage in their initial project quote will protect their investment of plants and hardscape for years to come. For instance, if you are installing a new landscape, address the downspout drainage within your package, as "to eliminate future loss of plants or erosion of the bed." Or if you are installing a new hardscape patio & pathway, include the drainage package within your contract, as "to avoid the erosion of your base and ensuring water drainage off the surface."
Finally,
Central Turf & Irrigation Supply is here to help! Contact your local representative for technical and field support for all your drainage needs, as well assistance in finding the right products and solutions for the drainage issues you see at your job sites. Learn more about access to on-line training & tools and drainage education classes, which are available through Central as well as from our vendor partners and manufacturers. For a full list of training opportunities, visit https://www.centraltis.com/training.