Thank you for joining us for our 2022 Contractor Loyalty Vacation at The Grand at Moon Palace in Cancun, Mexico!
---
We look forward to a relaxing and memorable trip. We have included helpful travel, resort, and excursion information to ensure your trip is worry-free.
Please join us for the following events, so we can get to know each other better. If you have any questions or concerns, please do not hesitate to contact us.
Enjoy your stay!
AGENDA
Friday, February 11th at 7pm: Welcome Reception - Caribbean Lounge
Sunday, February 13th at 8am: Business Meeting - The Grand Ball Room #2
Monday, February 14th at 6pm: Farwell Dinner - The Grand Terrace
Informational Booth Available Saturday - Monday from 8am-10am
---
---
---
Travel, Resort and Excursion
This webpage and brochure includes helpful travel, resort, and excursion information to ensure your trip is worry-free.

Enjoy your stay!
---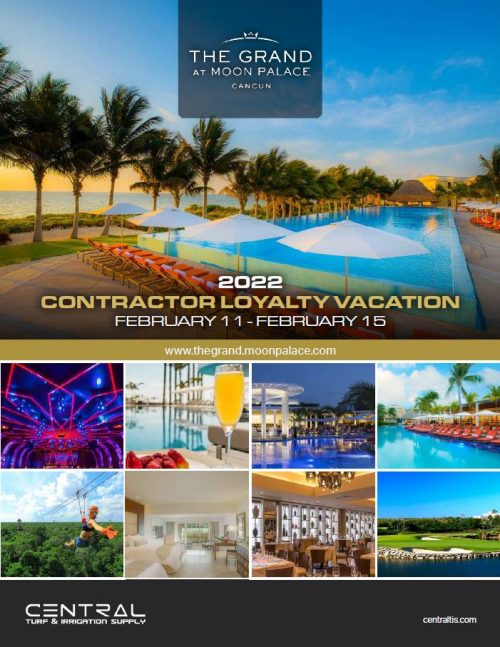 ---

Cancun is located on the northeastern edge of Mexico's Yucatan Peninsula. The city is situated on the coast of the Caribbean Sea 11 meters above sea level at 21.17 latitude and -86.85 longitude. It is recognized throughout the world for its spectacular white sand beaches and its fascinating sea in turquoise blue tones. With unique natural places, Mayan culture, water activities and adventure. International cuisine, spectacular golf courses, sophisticated spa facilities, exclusive shopping centers, typical handicraft markets as well as shows, bars and nightclubs that give fame to its incomparable nightlife.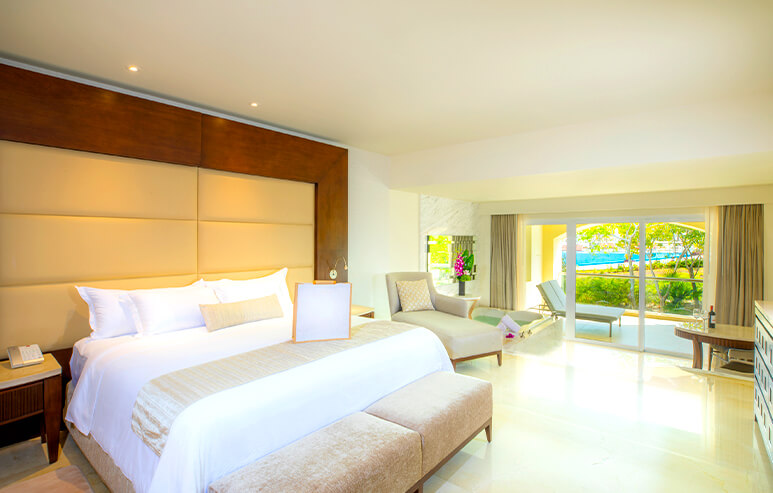 The stately suites at The Grand feature double whirlpool tubs, 24-hour room service, world-class spirits, and unlimited local and long distance calls to the continental U.S., a complimentary bottle of wine to greet you upon arrival, aromatherapy, mini bar, and nightly turndown service.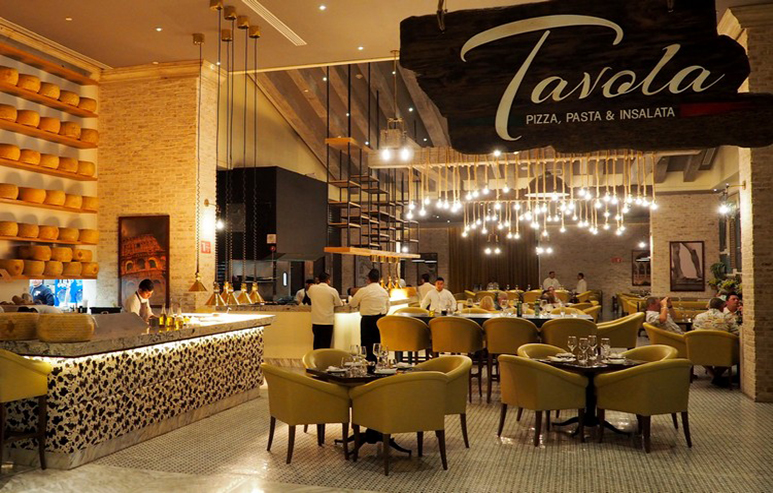 The Grand has 11 restaurants offering the finest from around the globe without leaving the resort, or even leaving your room with 24-hour room service. They honor traditions with masterful preparation, the finest local ingredients, Certified Angus Beef®, and fresh seafood. Savor a feast of flavors including Italian, Asian, French, Lebanese, and more.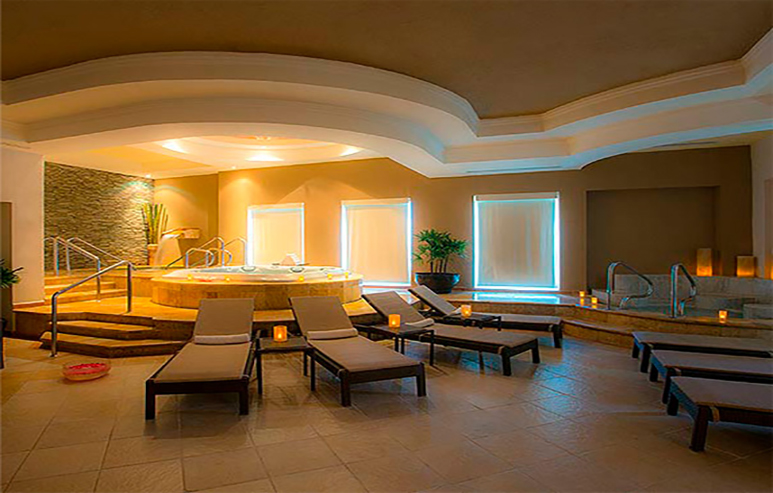 Time to enjoy some Grand pampering. Ease into the vacation of a lifetime in glamour and guiltless extravagance and look your best while feeling your best at Awe Spa. Options include: Spa Treatments, Beauty Salon, Juice Bar, Water Journey Ritual, Atelier Services, and a professional barbershop.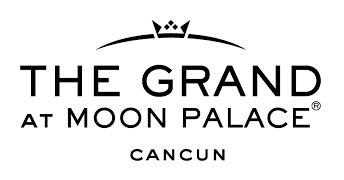 Activities and Adventures Await!
The Grand boasts an 27-hole Jack Nicklaus signature golf course with a combination of Dunes, Jungles, & Lakes, as well as a driving range. Looking to improve? Sign up for Moon Palace Golf Academy and learn from the pros themselves. For further information consult vipvacationplanner@palaceresorts.com or contact Palace Vacation Planners on arrival. Central guests enjoy a 40% discount on green fees.
*Golf clubs not included. Cart fees apply.
---
Get the PALACE RESORTS MOBILE APP
IMPORTANT TRAVEL INFORMATION
---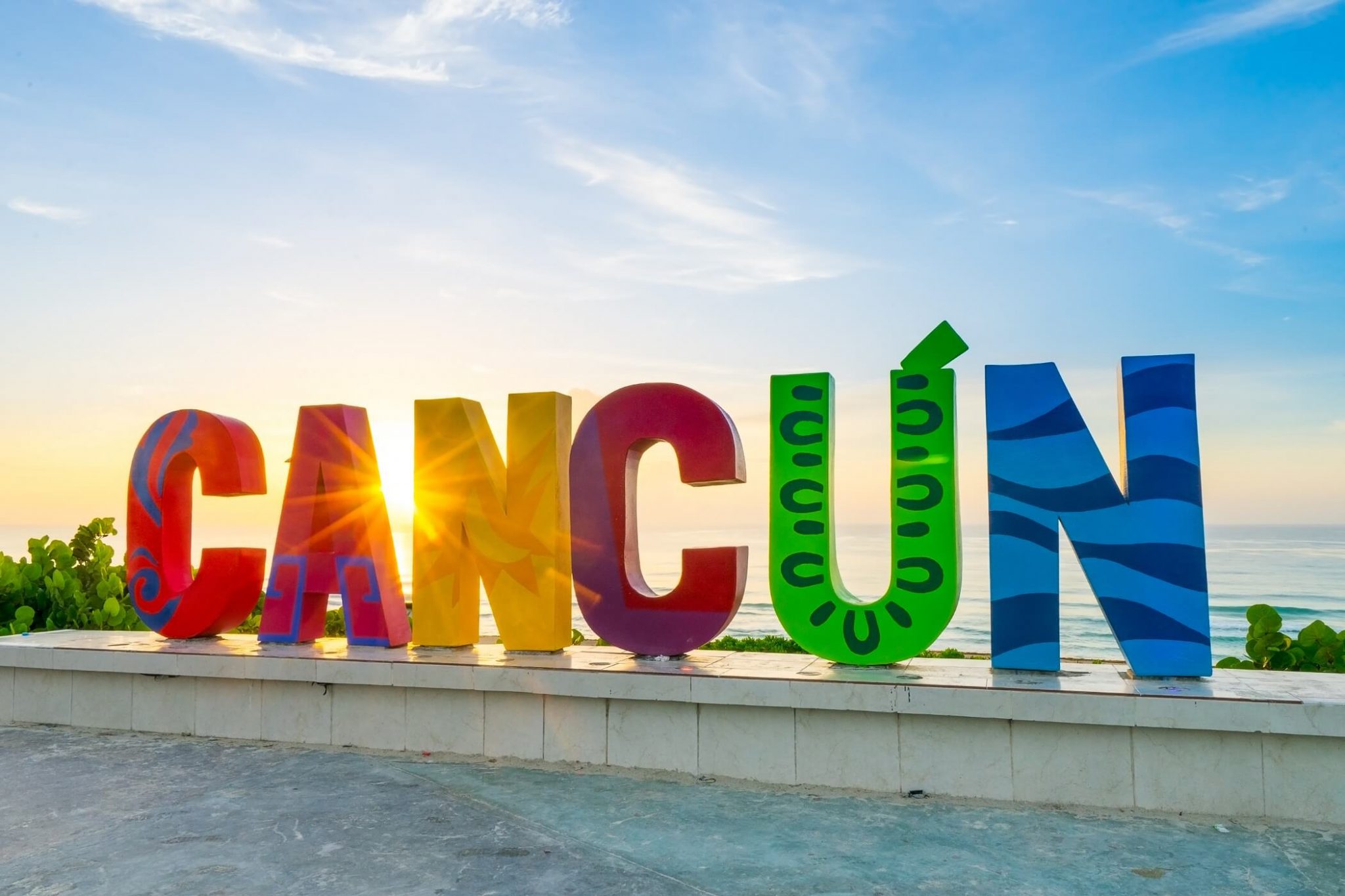 ---
---
Proof of a negative COVID test or vaccination status is not currently required to enter Mexico or to stay at The Grand Moon Palace, Cancun. However, Mexico requests a Health Survey be completed before entry. You can complete the Health Survey here:
https://www.vuelaseguro.com/login

Immigration Form / Tourist Card
Many airlines are moving to an on-line process for these immigration forms. You may receive an email a few days prior to your flight with information on filling out the forms online.
These forms will still be available at the airport in Cancun but to streamline the process, you may fill these out in advance. Your airline may even ask if it has been completed when you check in.
Immigration forms are one per person. Customs forms, which you will get on your flight or at the airport in Cancun, are one per family. Below is a link to the immigration form: https://www.mexicotouristcard.com/
Requirements are subject to change at any time. Please stay up to date on all travel requirements by visiting these sites:
https://travel.state.gov/content/travel/en/international-travel/before-you-go.html
Get TSA PreCheck Clear and Global entry–
Cancun is high on the list for most tourists planning for a vacation on the Mexican Caribbean coast. This means that long and annoying airport lines at the international terminal are a part of the mix. If you don't have them yet, acquiring TSA PreCheck Clear and Global entry will help reduce this hassle as you get the privilege of bypassing slow-moving lines.
You can bring US dollars– but always pay with Pesos!
Cancun is one of the busiest and best places to visit in Mexico. Therefore, it's not surprising that you can use the US dollar or Mexican Pesos around the Hotel Zone and Downtown area. There's a catch, though: when paying in US dollars, it's a norm for the vendors and cab drivers to give change in pesos and at very lousy rates. That's why exchanging your dollars for pesos might be a much better idea for you. One more thing- avoid using credit cards as Cancun ATMs are notorious for obnoxious exchange rates.
The island recently changed to Eastern Standard Time (EST), which is GMT-5:00. The Cancun time zone is always EST, even when the U.S. east coast region swaps over to daylight savings time.
---
---
---
---
COVID TESTING AT THE GRAND AT THE MOON PALACE
The Centers for Disease Control and Prevention requires air passengers entering the US to provide a negative COVID-19 test before boarding their flight. Palace Resorts are pleased to offer easy, onsite COVID-19 antigen (rapid) testing. Tests will be conducted on property at no cost to guests (for up to two guests per room).
https://travel.state.gov/content/travel/en/traveladvisories/ea/requirements-for-air-travelers-to-the-us.html
Testing and samples will be administered by experienced in-house lab teams. Results will be received within 30 minutes and documentation will be ready for guests to present at the airport for their journey back home. Guests should contact the concierge to schedule their departure test as soon as they check in.
Furthermore, if a guest visiting from abroad who has been staying at the resort for a minimum of 3 nights, tests positive on checking out, confirmed by an official PCR test and thus preventing departure, Palace Resorts will cover the cost of quarantine for up to 10 days at no cost to guests, for up to two guests, should both guests test positive.*
*If guests want to isolate themselves but have additional family members that wish to stay, guests can book additional rooms at $199 USD per night for up to four people, in a standard (run of house) room. Guests who have tested positive will be accommodated in a designated COVID area of the resort.