Step 1: Commit Now to Lock In Savings All Season Long!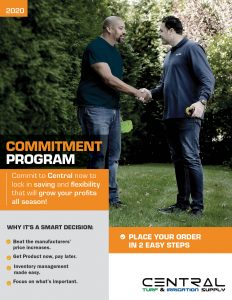 Get products now, pay later
Flexibility helps you grow your profits
Inventory management made easier, beat the seasonal rush & re-stock now
Earn double Central points
Plan ahead so you can focus on what's important in the spring
Ask your Central Rep to learn more
---
Step 2: Prepare for Irrigation Start-Ups
Replace & Upgrade Hand Tools
Shop our in-store displays or order what you need from our tool catalog.
Repair Parts
Backflow kits from all brands
Diagnostic Tools
Wire tracers, valve locators, and multi-meters
Evaluate Systems: Upgrade & Technology Add-Ons
Home owners want to be more connected to their home systems. Now is the time to upgrade outdated equipment and embrace the newest in technology.
---
Step 3: Plan Ahead & Grow Your Efficiency This Season
Order Fertilizer & Weed Control
Choose the right products to save money and manpower
Pre-Emergent:
Apply early for season-long weed control
Apply Efficiently
Increase your productivity by making investments in new and efficient equipment and tools
Spring Turf Fertilizer:
Choose a regionally tailored annual fertilizer for season-long efficiency
---
Step 4: Prepare for Spring Yard Clean-Ups
Increase Job-Site Productivity
Dingo Compact Utility:
Invest in ways to increase you crew's productivity. Multi-purpose machines do the heavy work for your crew, making your team more efficient.
Order Tools & Equipment for Success
Plan ahead and order all the tools you need to be successful for this year's Spring clean-up.

Blowers
Pruners
Trimmers
Wheelbarrows
---
Step 5: Partner with Central
Partner with Central
Access business solutions & support from Central:

Design Services & Large-Scale Project Support
Education & Training
Business Marketing Support
Customer Financing
Central Rewards
Seasonal Early Order Stocking Programs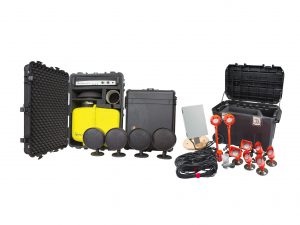 Attend Winter Training
Stay current on the newest industry trends, earn CEUs, and learn how to grow your sales with customized training near you.
Focus on Off-Season Business & Marketing Strategies
Assess, plan and execute new business and marketing strategies to help grow your business:

Evaluate your pricing
Plan hiring strategy
Build brand recognition online
Analyze competitors

Reserve Demo Kits
Expand your lighting & outdoor audio sales with proven demo kits.
---
Step 6: Say Goodbye to Winter
Order Drainage to Manage Excess Water
Order drainage products to manage excess water on all property types.

Catch Basins
Channel & Trench Drains
Grates
Pop-up Emitters
Dry Wells
Be Ready for End-of-Season Storms
Central makes sure you're ready for the end-of-season storms with professional-grade ice melt, spreaders, shovels & blowers.