We get it, finding new customers can be a challenge. In the past it was easy. You could simply place an ad in the Yellow Pages or in the local newspaper or penny saver. That was enough to get the ball rolling for your business. That's not the case anymore. You must embrace the online space and its tools. And, we don't just mean a website for your business—although a website is critical for your business.
Today, 97% of people search for local services or businesses online. Your next best client is looking on their smart phone or computer for your service online. They won't be looking in the newspaper. Now this word search is especially important. People may not know your business exists but they need the services you offer. At this point, they are not going directly to your website address. Instead, they are using a web browser and an online search tool to find the services you provide. This is why you need to embrace online tools that deal with search, specifically Google. But how can you get started with this process of promoting your business?
 Embrace Google for your business. Google is the largest search engine, and is used daily. It is used for 90% of all online searches, including local. It receives 3.5 billion searches per day, with nearly half specifically for local services.  It's vital that you become the next local search result for your customers looking for a landscape service.
How can you help your potential customers find you? Google offers a tool called Google My Business which will put your business in the forefront of your local customers and ahead of your competitors. It's a free and easy tool to use that will benefit your business with an online presence, which is absolutely essential. It's an opportunity to make your service stand out, and become available to your next potential customers.
So why is it beneficial for my business to create a google my business profile, and just how easy can it be to set up?
Why Google My Business
As we mentioned, Google My Business is a free business listing on the largest search engine. If you want to be one of the top results the next time a customer is searching for a landscape service, this is your opportunity. Along with getting your services in front  of your next best customer, Google My Business offers a number of opportunities for promoting your business:
1. Contact Information
Your current clients may know how to reach you when they need your services, but how will a new potential client know? Or maybe your next client wants to learn more about your service or business but doesn't know how to get to your website. This is where Google My Business can be beneficial.It will help you generate more traffic and exposure since it provides your contact information on the right-hand side of the page including, hours of operation, phone number and website. This is important because it's an efficient way to help your customers find you easily with a simple search–while being one step ahead of your competition.
2. Engagement and Q&A
Along with appearing on top of the search results, you can engage and communicate with your customers. Google My Business allows your customers to call, message, or leave a review of your service or business. It's important for your client to leave a review about your services. This is important because nearly 80% of all consumers read online reviews when hiring a landscaper! The more positive reviews you have, the more likely they'll choose you over your competitors.It also creates a great opportunity to interact with your customers and respond to their reviews, comments, or questions. The Google's Q&A features allows customers to ask a question directly within the business listing. These questions can range from specific niche services, specials, or answer obvious questions like your store hours. These questions can be up-voted by other users, which will play into how high each one will rank within your Q&A section. As a business owner, you can log into your Google Maps mobile app to respond to these questions or flag non-legitimate comments or complaints. Being responsive can lead to a great first impression that will show you are constantly active and ready to provide a great service.
3. Posts: Updates, Events, Special Offers, and Products
With Google My Business, you're able to create Posts with text, images, and offers. This is a great feature for your business as you can create posts such as "before and after" images of your work, or share information about a unique new service or offer that you're excited to announce. Furthermore, you are able to offer discounts or specials to potential customers such as 10% off winterization or a free controller with a new installation.This is a feature you should not overlook because it's your opportunity to capture your next client's attention. This will help ensure that you stand out from your competitors, and it's a simple and effective way to do so. Make sure you utilize the image feature of Posts  consumers are visual and using images will be more beneficial. Local service contractors that that use images in their Posts see a 35% increase in clicks to their websites over those that do not include images. (See example below)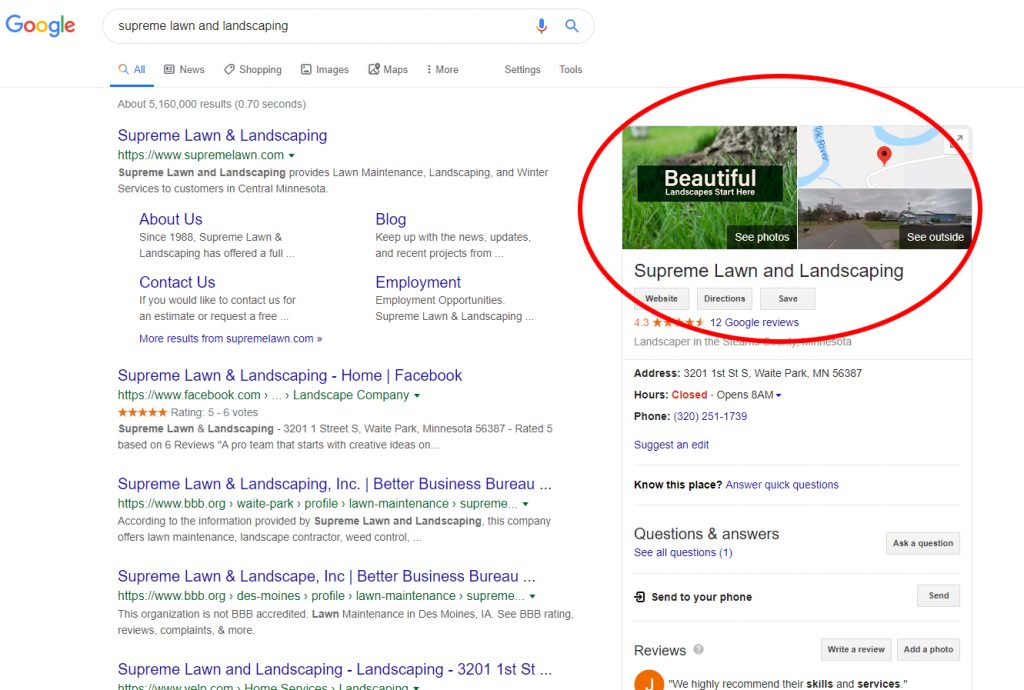 Posts are placed near your contact information, so your next client won't miss out on them. It's best to post as much as you can about your business to have a complete profile. The more content you post online about your service, the more you're educating your customers about your service and why they should choose to work with you over your competitor. If you're not sure what to post about, think about problems your next client may face that you can solve. A solution could be offering aeration as a service since most customers are unaware about that service or letting customers know you install Alexa-enabled Wi-Fi controllers. However, keep in mind that your posts expire after one week on Google My Business, so it's important to update them weekly. If you don't already have an online presence or you're looking to increase your existing presence, Google My Business is your best opportunity to increase your customer base and get the word out about your business.
Easy to Set Up
The great part about this tool is there is no cost to you other than the short time involved In creating an account. Here are six steps to set up your page today:
Create an Account.
In order to use Google My Business, you must have a Google account. Once you've created an account with google, go to com/business and select the "Manage Now".
1. Enter Your Business Name


2. Enter the Address of Your Business.
Remember for your business to check the button that says "I deliver goods and services to my customers."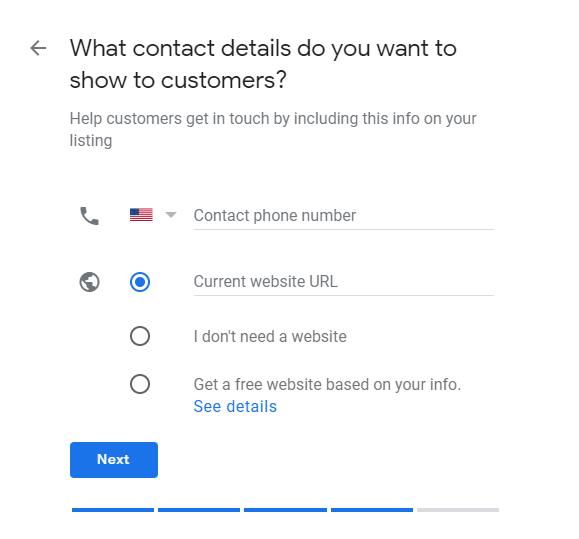 3. Choose Your Business Category.
These categories help Google connect you to the customers searching for your services, so make sure it's accurate.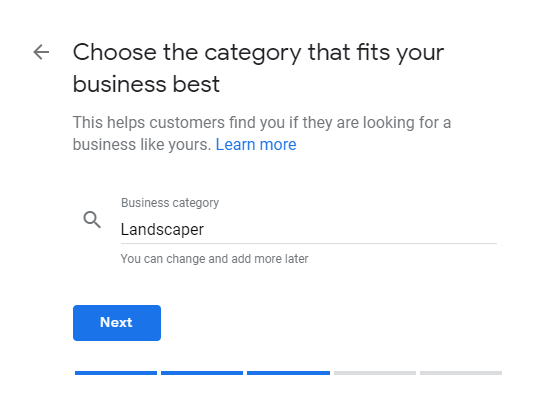 4. Add Phone Number & Website of Your Business.
If you don't have a website, Google My Business offers to help build you one for free based on your page. Then select "Finish".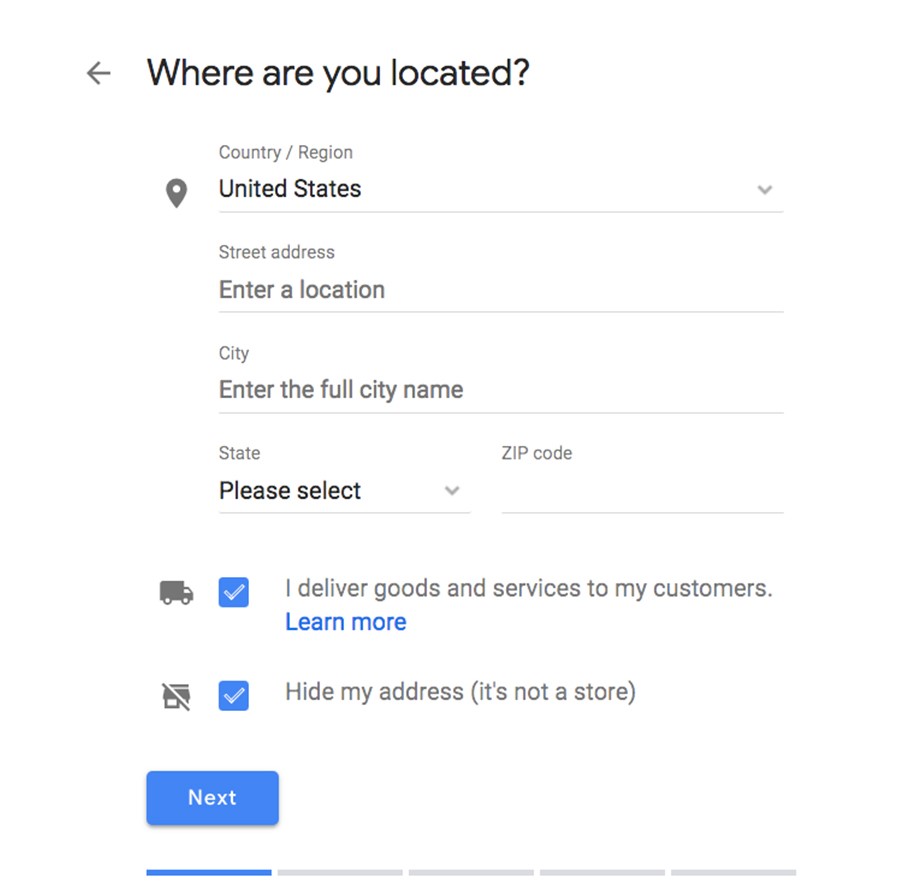 5.Verifying Your Business.
The final step is to verify your business. Verifying your business helps confirm the information of your business is accurate. Verified businesses are also twice as likely to be trusted by your customers. There are several ways to verify your business, the most popular way is by postcard.Here's how to get verified by postcard: After you've selected "Finish", you'll be at the "Choose a way to verify" screen. (If you aren't logged in. Log in. Then select the red, "Verify now" banner at the top of the page.) Make sure the Contact name, Business name, and address are all correct.
Select that blue "Mail" button. Enter the name of the person who should receive the verification postcard (or you can leave it blank). Click "Send postcard." Wait up to five days for your postcard to arrive. Log into your Google My Business account. If you have multiple locations, chose the location you'd like to verify. Tap "Enter code." Enter the unique verification code written on the postcard.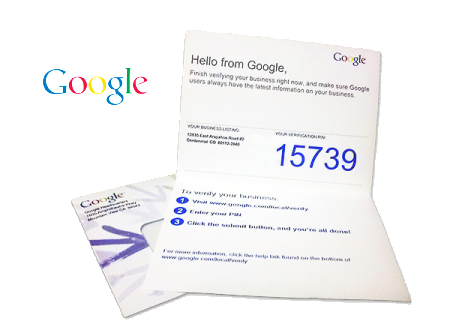 At Central, we understand it can be a challenge to create an online presence. Whether you need support with marketing consultation, business strategy recommendations, or design support, Central is the right partner for your business. We're here to help provide you with the right solutions for your business, and to help you grow!