As we mentioned in our article last month, this year is expected to have higher than average rates of mosquitoes throughout every area of the country, from the Northeast and Southeast to the Midwest and beyond.
In the last decade, mosquito and tick populations have exploded throughout the US. Tick-borne diseases have more than doubled in since 2004 and diseases are becoming more deadly. Mosquitos-borne diseases continue to be a global epidemic and are estimated to impact more than one billion new people in coming years as global temperatures continue to rise. The National Institutes of Health is putting grant money behind funding research to study the different ways to prevent the spread of these diseases. Local governments and communities are putting a real effort around controlling these harmful insects with "Fight the Bite" programs, but they are not the only ones. More and more, homeowners are calling in professionals to make sure that their families are protected. They want to enjoy their outside living spaces without the worry of Lyme, West Nile, or any other of these harmful diseases.
Tick and Mosquito season has already started. Start applying control products now, before ticks and mosquitos start to multiply. When offering repellent services, make sure to offer a multi-visit package to keep your customer's property insect free all season long.
When offering services to your customers, it's important to have the right solution to meet their needs. Some customers may request an all-organic kid and pet safe option, some may want the strongest formula available, and another customer may want something in between. To make it easy for you, we've compiled a list of three effective control products for tick and mosquito including traditional, lower impact, and 100% organic.
Traditional:
ProFlex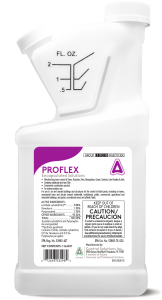 Fast-acting and long-lasting solution for several hard to control pests including mosquitoes, cockroaches, fleas and ticks. Three active ingredients provide three modes of action control insects. This product offers a 90-day guarantee.
Combination Chemistry® contains adulticide and two insect growth regulators (IGRs)
Breaks the life cycle of insect reproduction to control fleas, stored product pests, cockroaches, mosquitoes, Lone Star ticks, and other listed insect pests
Quick- acting & long lasting
Low-odor, for indoor/outdoor use
Low-Impact:
Bifen I/T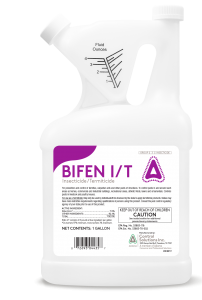 A professional strength insecticide/termiticide. Can be used indoors/outdoors on residential, institutional, public, commercial, and industrial buildings. Effective against ticks, mosquitoes, termites carpenter ants and other pests of structures.
Can be used on lawns, ornamentals, parks, recreational areas and athletic fields to control chinch bugs, crickets, fire ants, scorpions, aphids and other listed insects
Long-lasting residual for up to 5 years
Low-odor, for indoor/outdoor use
Bifenthrin is not likely to reach groundwater because it binds tightly to soil and it is not absorbed by foliage or translocated throughout plants. Bifenthrin is low in toxicity to birds.
100% Organic:
Central Organic Insect Control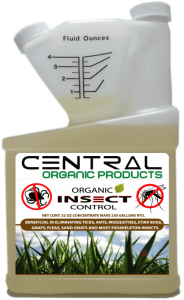 Central Organic offers 100% organic control for a wide spectrum of insects, including ticks and mosquitoes.  It has an all-organic formula which will not harm beneficial insects like bees, butterflies, and earthworms, but will eliminate ticks, mosquitoes and other insects, and is EPA-exempt.
Central Organic Total Insect Control can be applied with a traditional sprayer or can be used with a fogger device
The product has residual effect for 4-6 weeks, so plan to apply monthly
Central is here to help. If you have questions or need other recommendations, contact your local Central rep. We're always adding new and innovate products to our warehouses to make sure we're meeting [and exceeding] your needs. We stay at the leading edge of the industry and we're ready to help you grow!