The reasons for installing a drainage solution are often very simple and straightforward; you have water where you don't want water! Central's Category Director for Drainage, Eric Cummings, is here to walk you through the Why and the How of drainage so you can tackle these issues, creating immediate value and success on your drainage projects.
WHY DRAINAGE?
There are some very obvious examples of why to install drainage and why to include drainage projects in your service offerings. The benefits can include; protecting the foundation of a home, making lawn and recreation spaces more usable, and creating safe and long-lasting hardscapes. Some examples that all contractors can relate to from a job site they have been on might be:
Removing water from around the foundation of your home
Alleviating a wet spot in a yard
Making sure water does not flow onto a patio
Keeping water out of a garage
Ensuring a playing field drains quickly enough to be playable after a rain event
When looking at the bigger picture of how storm water effects a community, we have to go back to US Federal Clean Water Act of 1972. The goal of this act was to restore all the waters of the US to fishable and swimmable condition. This act was expanded in 1987 to regulate municipal and industrial storm water discharges. The reasons for this become clear when we look at how storm water behaves in an urban vs undeveloped area. The graphic below illustrates the differences:
With only 10% runoff vs 55% runoff in a highly developed setting, we are left with the question of where does all that water go?
In many developed urban areas, the wastewater system and the storm water system are combined. All water ends up at treatment plants that will discharge clean, treated water back into rivers and streams. In dry and light precipitation conditions, this system behaves as it should and will return treated water out of the plant. In heavy precipitation, the system gets overwhelmed and is unable to keep up with the volume of water entering the system. This results in polluted water being discharged due to the sheer volume of water entering the system.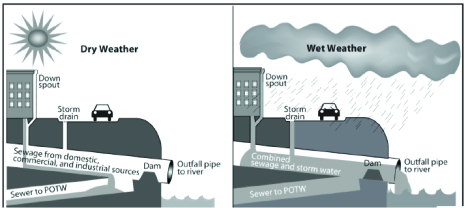 To provide a very high-level summary on the above, the more that you can do to keep storm water on a property, the more you do to protect the health and well being of our waterways. If your township or municipality is not yet requiring storm water management when installing new construction at this point, it is only a matter of time until they do. Understanding how a drainage system works will get you ahead of the curve for when those types of regulation apply to you.
---
The goal of storm water management is to become a good neighbor by helping protect our waterways. The steps below will provide some guidance on how to best provide solutions to achieve this goal.
---
THE HOW
Storm Water System Anatomy
Regardless of the size of the storm water system, the anatomy of the system remains the same:
Capture the water at the source (filtration where applicable)
Convey the water through some type of pipe
Detain and Infiltrate
Provide Overflow
Capture – Capture devices can range from direct plumbing from a downspout, catch basins or area drains, trench drains or even permeable pavers. A capture device is anything that allows stormwater to enter a system. This capture point can also have a filtration device to ensure the system remains clear of debris and prevent potential clogs in the future.
Convey – Once the water has entered the system, it has to be moved, or conveyed, using some type of pipe. This can vary from a flexible coil pipe, PVC, HDPE or even concrete depending on the size of the system.
Detention – Small scale residential projects can often be handled with a dry well system, seepage pit, or traditional French drain or manufactured trench drain. Large scale commercial systems will likely require a chamber type system to handle the volume required by ordinance, code or engineer requirements. These products vary widely in size, volume and cost and will be determined by the volume of water the system is required to handle.
Overflow – Residential systems are often handles by a pop-up emitter. Depending on the volume of water exiting the system, multiple pop ups may be required to handle the amount of water exiting the system. Large scale commercial projects may require a large diameter pipe with an armored area beneath to prevent erosion from the water exiting the pipe.

Regardless of the size and scale of the system to be installed, the anatomy remains the same. The principles of a residential home system are the same that apply to a large warehouse. The amount of water that leaves the site should behave the same as pre-construction conditions notwithstanding system size.
Finally
No matter the size and scope of the drainage system you are looking to install, Central will have the products and expertise to get all materials you need to complete your projects. From residential to commercial, our staff knowledge and relationship with manufacturers  allow us to provide you the materials and planning you need to get the job done!
About Eric Cummings
Eric has 25 years of experience in the landscape industry, and he has spent the last 5 years as a District Sales Manager for NDS. While at NDS, he built a detailed knowledge of both residential and commercial drainage installation. Before joining NDS, Eric was a supervisor for Stoney Bank Nurseries in Glen Mills, PA overseeing both high-end landscape design jobs in the field as well as the forcing schedule for the Philadelphia Flower Show. At Cider Mill Landscapes, Eric designed and installed planting, hardscape and drainage projects in Delaware, Chester and Montgomery counties. Eric has a B.A. degree from West Chester University in Philadelphia.