Summer's here and the busy season is underway. You're focused on keeping existing turf looking great, so grass seed may be the last thing on your mind. Now that we've hit July, seed harvest is right around the corner. Even though it feels far off, now is the time to get informed and know what's on the horizon for overseeding season.
Let's talk seed.
When it comes to grass seed there is a lot know. It's overwhelming. Manufacturers' labels can be confusing and it seems like you need a Ph.D. in agronomy to know what they say. Many times, it feels like it's easier to just grab whatever bag is the cheapest. The problem with this strategy is you may end up paying more because you'll need to use more of an inferior product to get passable results.
Will that cheap bag perform the way you need? Maybe you need to establish turf fast and this blend doesn't have the right seed for fast establishment. Your customer's yard might be extra sunny. Does this bag contain the seed culture that performs well under these specific conditions? Furthermore, if you just grab whatever bag is available, you might be missing out on new technology in the industry. Did you know you can apply weed control when seeding? Or that there are sustainable options available?
We want to get you up to speed on seed. That's why we've connect with Doug Cranmer and Anthony Pignataro, Central's Regional Turf Directors, to find out everything we need to know about this season.
From the Experts:
Get Up to Seed: July 2019
This year, you'll want to keep an eye out for a few curve balls, but overall the crop reports seem to be mostly stable for this year's grass seed crop.
Kentucky 31
Kentucky 31 crop reports show a harvest of about double the size of last year's—40 million pounds compared to around 20 last year. Keep in mind, we've seen a lot of rain in the Midwest. So, there is a possibility that not all of the crops will be harvested due to the heavy rains and flooded fields of Missouri. However, even with the rain, we're expecting higher quantities than normal.
Things to look out for:
K31 will most likely drive prices down this year since it's in such an overabundance. With this large quantity of K31, many distributors will be looking to offload it or may even try to pass it off for a turf-type fall fescue. Be wary of the too-good-to-be-true deals. Furthermore, certain seed mixtures may even contain up to 5% inert materials. To make sure you are getting your money's worth, take a look at what in the bag.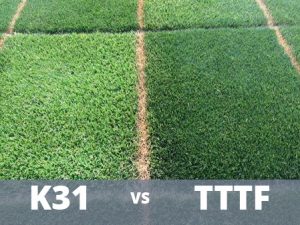 K31 is a tall fescue, not a turf-type fall fescue. It will have a lighter more lime green color opposed to a turf-type tall fescue which has a richer darker green that your customers want. K31 is more coarse, older variety and because of that it is more economical but you get what you pay for. It does not mix well with other varieties, it will grow quicker making the lawn look uneven, and it may even overtake the other varieties once established.
Technology in grass seed has come along way since K31 was first cultivated in the 1930's and 1940's. There are many other excellent choices that will work in combination environments and give you the look that you and your customers desire—at prices that won't hurt your wallet.
Turf-Type Tall Fescue
Turf-type tall fescues (TTTF) is a more premium variety. It has gained momentum with contractors and homeowners alike because of its performance and aesthetic. Once established, has a fast green up in the early spring and has a richer darker green color. It is finer than K31, however not as fine as a fine fescue or bluegrass. It grows well in varying conditions from sunny to shady and wet to dry. Even better, it mixes well with other varieties and is heat, drought, wear, and disease tolerant.
This year, the turf-type tall fescue yield seems to be down slightly (10 -15%), but more acres were planted, so the result is approximately the same tonnage as last year. Current inventories are on the low side, but once harvesting begins in July availabilities should be ample.
Kentucky Blue Grass. Fine Fescue. Ryegrass.
Kentucky bluegrass, fine fescue and ryegrass production should easily meet demand with the exception of a few varieties.
Things to know about these varieties:
Kentucky bluegrass forms a dense and attractive turf and is the favorite and most widely used of all the bluegrass species. It is known for its excellent color, density and texture. Kentucky Bluegrass has a solid advantage over other cool-season grasses because of its high wear tolerance.
The fine fescue grasses are known for their exceptional shade and cold tolerance. They have some of the narrowest blades of any grass type and should not be used in high-traffic areas.
Ryegrass is generally part of a seed mixture because of its fast germination and good wear resistance. Ryegrass has a very high wear tolerance. It is used on athletic fields, along with bluegrass, to provide a more durable playing surface.
As always, weather over the next few weeks can change crop production, but things look pretty stable going into our critical last days of turf-grass seed production.
Use Blends and Mixtures for Long-Lasting Success
We all know that not all grass varieties are created equal. Some are susceptible to disease, some cannot tolerate too much sun or too much shade, others go dormant as soon as temperatures hit 80 degrees, some you can't walk on without destroying, while others thrive in sports fields. The bottom line is that your customers want a beautiful, consistent green lawn. And they pay you to deliver that.
To make sure you're successful, you'll need a product that is low maintenance, drought and disease resistance, durable, establishes quickly, has a fast and consistent green up, and a deep rich color—plus, it can't break the bank.
This is where we need to let mother nature take the lead. What do we mean by that? In nature you will not see monocultures, which is a single species of grass. Nature doesn't do monocultures, and in most cases neither should we.  Now we say most cases because there are a few monoculture varieties that can be used very successfully in specific use cases such as overseeding in Southern regions during cooler months for a quick green up.
For long-lasting success, we recommend using blends and mixtures. A blend of grasses is the combination of two or more cultivars of the same species, such as an all tall fescue blend. A mixture is a combination of two or more species of grass, such as a sun and shade mixture of perennial ryegrass, fine fescue and bluegrass.
The reason we recommend blends and mixtures is because they are self-adjusting based on the environment. Our customers' properties have sun and shade, some areas may get more water, or heavier foot traffic. Blends and mixtures are ideal because they are able to adapt to their environment. The right seed will establish in the right place, naturally. Have a mixture with perennial rye and a fine fescue? The fine fescue will thrive in the shade, while the perennial ryegrass will do well in the high-traffic areas.
Below are a couple of our favorite blends and mixtures that are sure to bring you long-lasting success:
Central All Star: a mixture of turf-type tall fescue, perennial ryegrass, and Kentucky bluegrass. This mixture forms a dark and durable turf, designed to do well under a variety maintenance levels and performs well in sunny areas and moderate shade.
Central Liberty Mix: a mixture of perennial ryegrass, fine fescues, and Kentucky bluegrass. This mixture forms a premium turf designed to do well under moderate- to high-maintenance levels, and performs well in sunny and areas with moderate shade.
Central Par Three Blend: a blend of three highly rated cultivars of perennial ryegrass. This blend is a quick germinating ryegrasses and is good for sunny areas to partial shade. It performs well under moderate to high maintenance.
As we mentioned earlier, monocultures can be used successfully as well for certain use cases. Tetra Dark Tetraploid Perennial Ryegrass is an excellent option for turf touch ups, especially in the South during cooler months. It is a monoculture of a cool season perennial ryegrass that is quick germinating, even in cooler temperatures. It is darker green than typical ryegrass and has deeper roots for greater drought resistance.
Sustainable Turf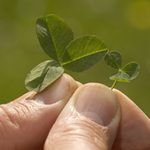 Sustainable and more environmentally friendly options are available when it comes
to turf maintenance. With the glyphosate lawsuits, customers may be asking for ways to cut back on fertilizers and chemicals in their lawn. This is where micro-clover comes in. Now, micro-clover is vastly different from other clover varieties like Dutch White Clover. It doesn't clump and doesn't product as many white flowers.
Micro-clover, is exactly what it says; tiny clover that grows beneath the grass canopy, so it is not very visible. Better yet, it acts as a natural fertilizer by grabbing nitrogen from the air and sharing it with the surrounding turf. It produces about an extra 1.5# of nitrogen per 1,000 square feet!
Our recommendation: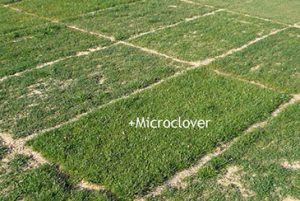 We recommend using micro-clover when growing grass in less than ideal
circumstances. For example, grass with a minimal nutrient program (only fertilizing once or twice a year), no irrigation, and limited weed control. Micro-clover blends quickly with grass and keeps the lawn dense, it will tolerate some traffic and deliver a dark green lawn with minimal weeds. Five percent is an ideal amount.
Fall Seed Program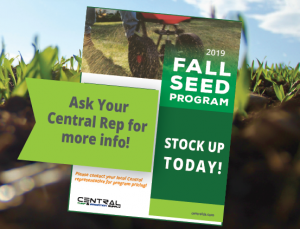 As a dedicated partner, Central helps you grow your sales by keeping costs down with our seasonal, early-order, and commitment programs. Starting in July you can take advantage of our Fall Seed Early Order Program to grow your bottom line with discounts and extended dating. To amplify your success, ask your Central rep or local branch for pricing and more details on the program.
Rely on Central to help, whether it's questions about specific varieties, mixtures and blends, the newest innovations, or finding the right solutions for a problem area. We stay at the leading edge of the industry and we're ready to help you grow!
About Doug Cranmer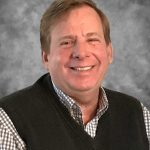 Doug Cranmer is our Midwest Turf Director and is a lifelong Green Industry professional. Cranmer's hands-on experience includes new lawn construction, sod production, and all things turf and equipment. He specializes in fertilizers, grass seed, and sustainable products and practices. Having spent much of his career consulting and teaching, Cranmer is an excellent resource to help overcome hard-to-solve turf grass issues.
About Anthony Pignataro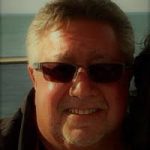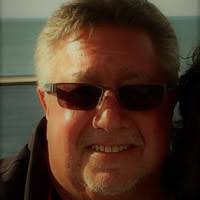 Anthony Pignataro is our East Coast Turf Director and has more than four decades of experience in the horticultural industry. From landscape maintenance and construction to sod farm, grass seed and retail/wholesale nursery, Pignataro knows turf. With nearly a decade of experience researching, purchasing, and blending premium ryegrasses, fescues, and bluegrasses, Pignataro is an excellent resource for finding the right blend or mixture for your needs. He has spent much of his career solving turf-grass issues and can help you create the right fertilizer or pesticide program, whether it's traditional, low impact, or organic.