How do you create landscape lighting plans that grow your reputation as a true professional? The right installation methods are essential. But what about design?
We asked our team of lighting experts to share their ideas on simple things contractors can do to take their lighting designs from good to great:
1) Move past stake-mounted fixtures. Basic lighting designs rely on good-old path lights and accent lights on traditional mounting stakes. But the most dramatic lighting effects can be created when fixtures are put into trees and suspended from outdoor structures. Explore effects like downlighting and moonlighting.
2) Use a variety of lamp wattages. Accent lights shouldn't be one-size fits all. Rookie contractors tend to overuse the all-purpose 20W (halogen equivalent) MR-16 LED with the medium beam spread. Interchangeable LED lamps make it easy to stock and to select the right lamp in the field for the application. In some cases more light (for tall trees or fixtures further from the house) or less light (for fixtures in the immediate foreground) can work better.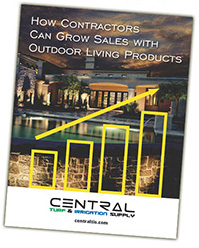 3) Add dimming. There are two options for dimming. The least expensive should be on every job: a simple rotary dimmer from Brilliance. For installations needing more control and flexibility, the Luxor system with zoning and dimming can't be beat.
4) Address multiple goals in your designs. Before submitting your quote to the client, identify whether it meets each of the common landscape lighting benefits: safety, security, beauty and lifestyle. For example, you may elect to add a fixture near a gate for additional security, or one along a pathway for security. Often the goal-driven additions are the ones that are the most useful and memorable for your client.
Looking for more lighting ideas? Download our Free Handbook!